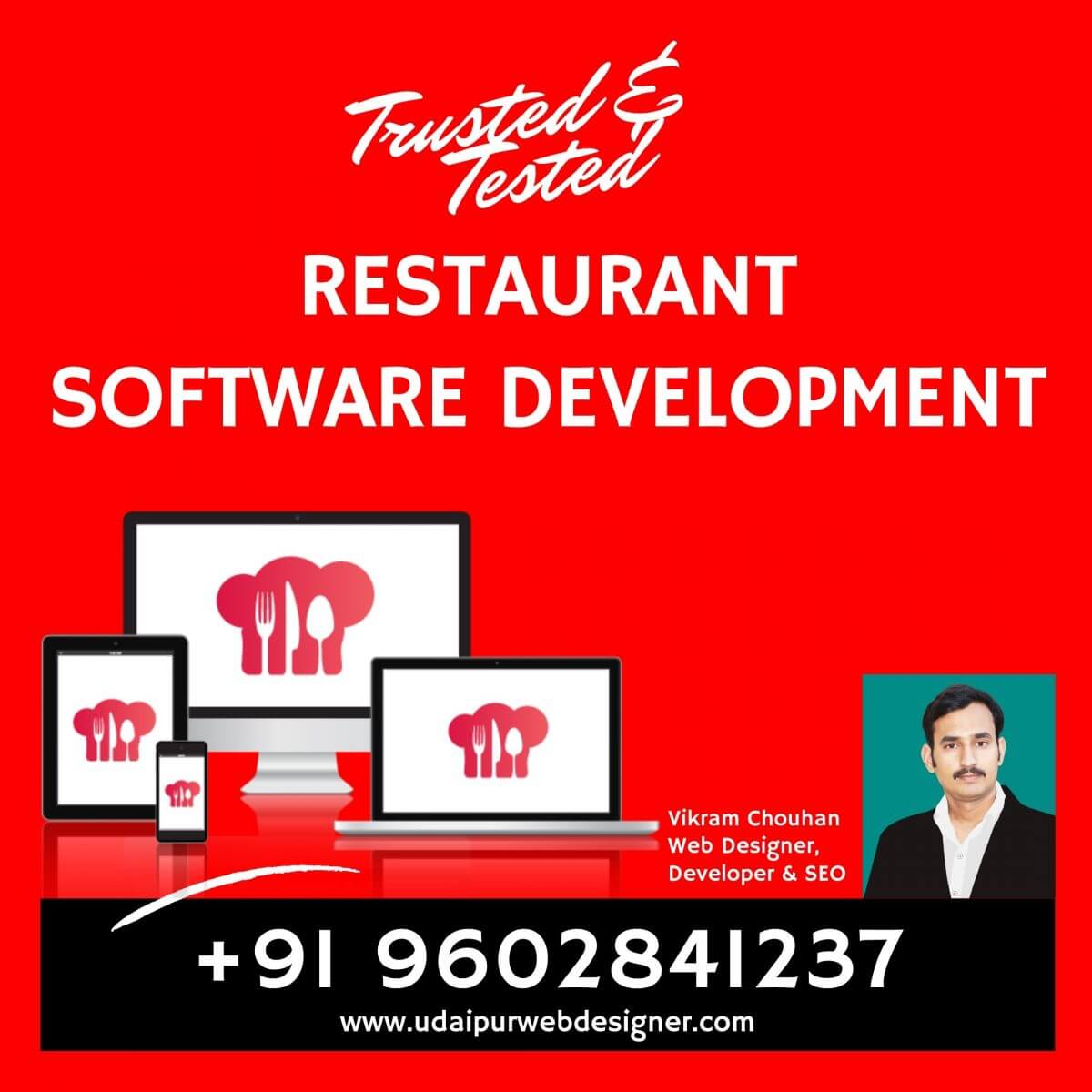 Restaurant Software Development
Restaurant Software Development – There was a time when connoisseurs of good food would rather go out for a fine dining experience. But with amidst the Covid-19 crisis, even the restaurant business tends to depend on ongoing online more than ever. So no matter the size of your eatery, it is more than important to have a completely customized Restaurant Management Software, Udaipur, Rajasthan, India.
Why choose our New Age Software?
From KOTs, inventory to online payment, everything needs the best restaurant POS software to work in sync. Your selected restaurant POS software development Udaipur, India Company should meet all the needs. Your chosen software should work on all devices, including Androids, Apple and MacBook. Also, make sure that it can integrate with the premier food delivery apps operating locally. There are some more things that we, Vikram Chouhan – Udaipur web designer, restaurant management software Development Company from Udaipur, India, can do for you.
Restaurant Management Software Development Company
Ease of Billing and KOT
We help to simplify the operations of your restaurant with accurate and fast billing. Moreover:
Our best restaurant software systems offer a comprehensive table management system.
Category wise KOTS
Multi-terminal billing facility
Ability to work with a number of printers simultaneously.
It would also be able to work with different weighing scales and barcode scanners.
Managing the Inventory and Recipes
Restaurant Software Development – Our quality restaurant inventory management software development team would also help you to take care of the stock more efficiently than ever by providing good restaurant inventory software. You can use it to sync the Software across the different online portals effortlessly. Thus you get all the assistance for:
Management of raw materials
Multi-stage recipes
Costing of food items
Supply of the central kitchen modules
Record of transfer and wastage of stocks
Restaurant Inventory management Software development
Our Software for menu management
With our best restaurant software, you can enjoy absolute control over the menu items that you choose for every single day. Whether you fix the menus for delivery or dine, the software can be particularly helpful. For example, it can help you make:
Customize the timing of menu
Initiate variations in the item, as well as add new combos and fresh items.
Fix pricing on the basis of area of delivery
Categorizing and grouping of the items, such as foods and liquor.
You can also enjoy hassle-free processing of the orders, as well as effortless online payment. This, in turn, helps to speed up your service.
Before choosing our restaurant management software and partnering with us, make sure to discuss with our team before determining what is best for your needs and budget. Our expert restaurant software development team from Rajasthan, India can provide you with the best option.