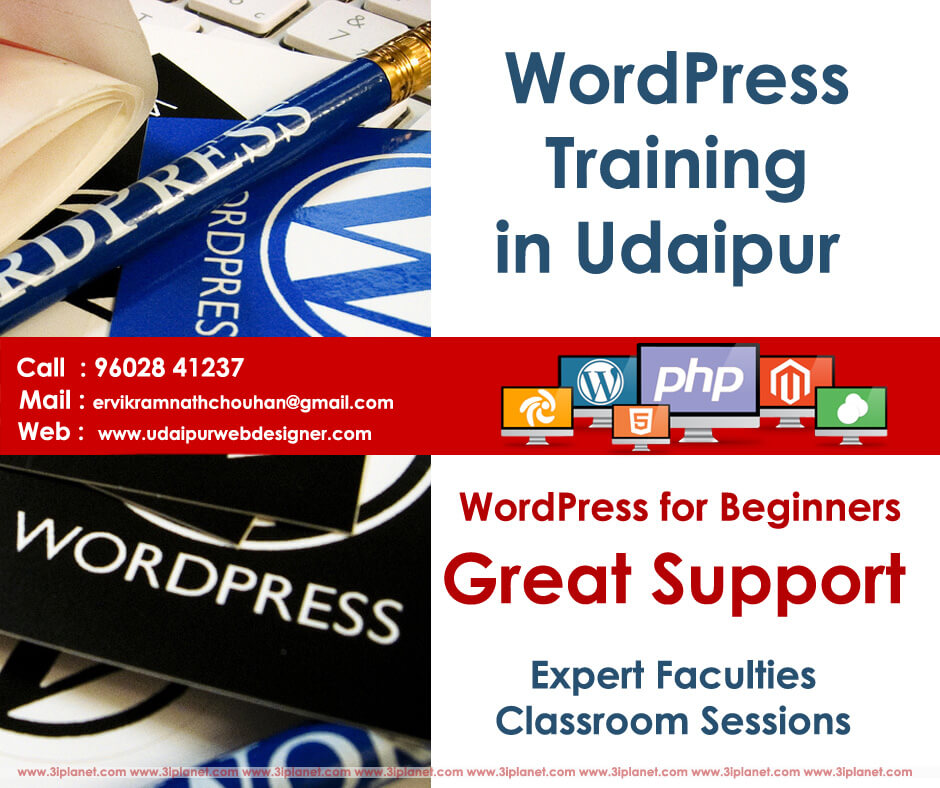 WordPress Training Udaipur
WordPress is free blog software, unless you want to implement some more features to meet the growing needs of a popular blog. so are you interested in wordpress training? We provide WordPress training in Udaipur, with Live Project work experience.
Learn how to build a website or blog in WordPress . In these courses, you'll learn how to install WordPress and configure it for SEO, install a WordPress theme, create an ecommerce website if you want!, and publish your photos and posts with the open-source WordPress content management system.
Despite the presence of several CMS platforms, the popularity and demand of WordPress has never really declined since its inception. Owing to its ease of use, customizability and oodles of features, it has become the preferred CMS platform for thousands of website owners and businesses. We understand the growing need to develop WordPress based websites. Those seeking comprehensive training CMS platforms like WordPress can get in touch with our experts. Our team can give you in depth insight into the popular CMS and with it you will become a pro in WordPress web development.
The beauty of WordPress lies in its simplicity. However, we will teach you nuances of the CMS from ground up. With our extensive training in WordPress, you will be able to create stoning websites using the CMS. From simple blogging sites to feature rich e-commerce websites, WordPress makes it possible to create various types of sites. While WordPress can be operated without using coding, we will also teach you required coding using which you will be able to extract the most out of the platform. We also upgrade course content to include new features introduced in latest versions of WordPress.
We offer WordPress Training in Udaipur for both beginners and those are already habituated to the CMS platform. So, we can prepare you for WordPress based web development even if you are novice to web design sector. Our course fee is reasonable and we are confident about it. Our well crafted course will help you become a WordPress developer and boost career prospects significantly.
COURSE OUTLINE:
 Beginners Guide to WordPress- It includes the definition, working and installation of WordPress.
Installation of WordPress-  downloading and installation on your Personal Computer.
WordPress Front-End- It includes the knowledge to know the difference between themes, posts, page areas, and plug-ins.
Useful Plug-ins-  booking system, online shopping, and managing directories.
Managing Your Site- search engines, widgets, plug-ins and themes needed for your site.
Choosing a Free or Premium Theme- It includes the choice to update a theme for you from innumerable themes available.
Making Theme Changes- It includes the use of HTML or CSS for adaption of a theme to your service.
Making the most out of Widgets- It includes the feature of interaction with rest of the users.