On Optimizing WordPress Database Effortlessly – How can WordPress database optimization help you? It actually helps in cleaning up the data that you do not want anymore. This, in turn, helps to slash down on the size of the database, thus improving the overall performance. And perhaps, the best thing about it is that WordPress database optimization is not at all tricky.

When to Optimize WordPress Database?
In case you have been utilizing WordPress for quite a while, your system might have accumulated a lot of redundant data in the data. They include almost everything from 'orphaned' Meta data, spam comments, post revisions, transient options, spams, and the like. These data enhance the database size of your WordPress. This means that your WordPress backup would occupy more disk space. Also, it would time to restore data. A successful database optimization WordPress would reduce the size of unwanted data significantly. As a result, you will enjoy better restoration, quicker backups and better performance of database.
On Optimizing the WordPress Database
Given that you are going to work on the database of your WordPress, you have to make certain that you conduct a full WP backup before getting started. Now the question is, how to optimize database? The first step to optimize database is to install, as well as activate a WP plugin. After that, this plugin would bring new menu items in the WP admin bar. They come labelled as WP-Optimize. Click there to take the setting page of plug-ins. Next, you would check a list of operations that the plug in can do on the database. You need to review them with care. Make sure that you uncheck just about any item in the menu that you don't want to run right at this moment. You would see that certain items are marked in red. They would need more database optimization. In case the process gets interrupted, then it is likely to corrupt the data. This is right where keeping a backup of the website before selecting the red-marked items. Right after checking the items, you need to click on the button named "run on all selected items". You will find it at the top. Now, the plugin would start to optimize the WP, showing the progress. That is all about it. Simple enough!
On Installing a Plug-In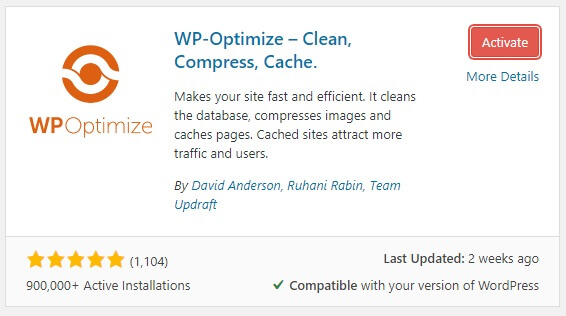 Plug-ins would help you to add a host of new features to WP. For example, WordPress database optimization plugin would help you to allow slideshows and gallery. You can choose from an array of free, as well as paid plugins, which are made for WP. Just like database optimization techniques, there are different ways to install Plugins. As for example, you can make it by using the plugin search, or use the WP Admin Plugin Upload or manually install it any means of FTP.
I got very best plugin to optimize your wordpress database in easy way.. use this plugin Wp-Optimize
WP-Optimize is an extensive WordPress database cleanup and optimization tool. It doesn't require PhpMyAdmin to clean and optimize your database tables.