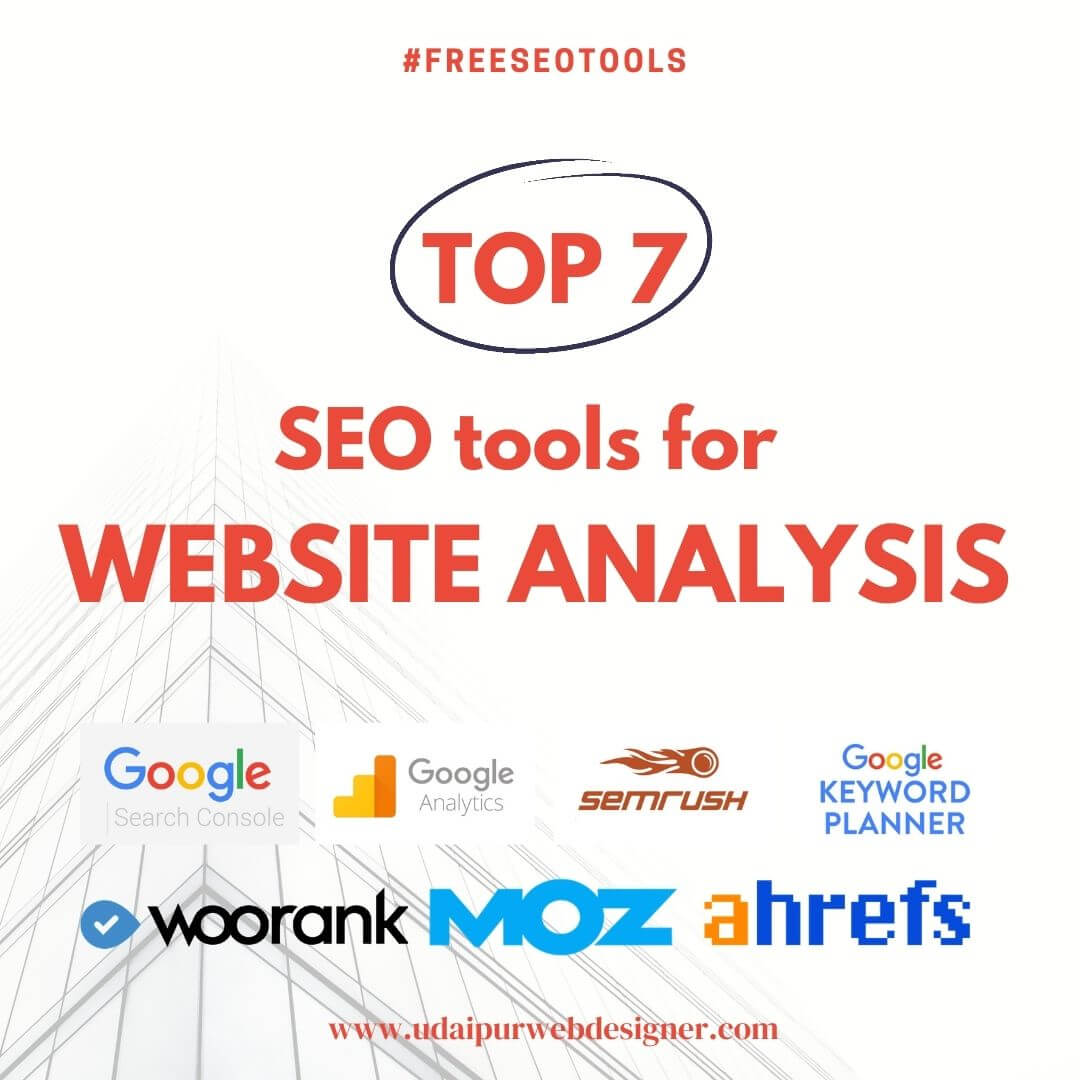 Top 7 SEO tools for website analysis
Top 7 SEO tools for website analysis – Now the world is digital for every marketing business unless knowing the correct way of doing specific things. The key of business is to perform well online so that it reaches the top of the Google page. SEO stands for "Search Engine Optimization". It is a process of getting more and better traffic to make the website with an organic search result. Free SEO tools are awesome; whatever it gives extra traffic, rank, etc.  There are a large number of free tools in the SEO world. SEO is most important today than ever it was before. SEO tools provide data and warn about the overall success and health of a website. Generally, all in one SEO tool are quite costly and require a monthly subscription. By using the best SEO tools it helps to access each website's performance on the fly. There are many collections of top free SEO tools for website analysis some of them are :
Free SEO tools
Google search console
The first SEO tool that everyone should start using it. It is one of the best SEO tools for any website and also for a beginner in an SEO career. It is Google's tool that monitors Google visibility. GSC is a free SEO tool, which gives quite a large amount of insights and provides the summary of a website that are important to notify, like HTML markups, broken links, indexed web page, etc. The major drawback of this tool is that it lacks in giving the complete picture of a website. https://search.google.com/search-console/about
By using this SEO tool you can find out:
How good the website is indexed to Google database.
What or which keyword gives traffic to your website.
Average ranking of the website pages and keywords.
Google analytics
Everyone uses Google analytics, but hardly anybody knows how to use it for improving SEO. Google Analytics is a powerful tool in the list of SEO tools. This tool can not only show blog performance but also a keyword, traffic source, and everything that is needed for the strategy. Google analytic is an even better way for knowing your audience. Google Analytics is the online marketer like air is to the person. You can't live without it. It also has functionalities to further break down the metric to identify the device, behavior, and location of the website. The GA helps to generate and schedule a report on Google sheets to easily track the data. https://analytics.google.com/analytics/web/
Semrush
It is the best keyword research tool and is the most popular SEO tool for blogs and websites. It is an excellent tool for monitoring blogs. Semrush is a paid SEO tool that functions analytic reports, website metrics, and guides in helping in measuring campaigns and navigate the building. This SEO tool has no limits for the blog data. Apart from all, it is a very competitive analysis tool. It is well-known for marketing SEO tools that tend to be a favorite in an SEO community. The SEO experts like that it is easily accesses ranking as well as identify change and also new ranking opportunities. https://www.semrush.com/
Moz pro
This SEO tool helps to increase ranking, traffic, and visibility with updated metrics. Moz is a free SEO tool for Chrome add-on that gives access to valuable information. Using this tool, you can find the website page's Page Authority and Domain Authority. Also, it can be used to check the pages Meta description, page title, H1- Header without checking them from code. The Moz pro tools help in discovering the right stuff at a glance. Also, the Moz bar can be position at the top, side, or bottom of the browsing window all time. This SEO software Moz pro tool pops up as one of the best SEO tools that experts are utilizing. Moz is a full-service powerhouse, whether looking for keyword recommendation or a website crawl. https://moz.com/
Ahrefs
This is another SEO tool that is used for website analysis. It performs a website audit to identify issues and optimize the website. Ahrefs is truly a remarkable SEO tool that every SEO professional has in their toolkit. It is one of the most well-known SEO tools online. Ahrefs is a link research tool that is used by SEO experts or digital marketers all over the world. It is a famous SEO toolset for backlinks and SEO analysis. Ahrefs provides intuitions into the competitor's ranking and traffic with a paid plan. The tool also provides users the vision to grow search traffic and a capability of monitoring their opportunity. https://ahrefs.com/
Woo Rank
This is an SEO Checker tool that can track all details about the websites. Woo Rank is an all-in-one tool that is great for managing their SEO website. Woo Rank is an easy and versatile service for making any SEO website user-friendly and it is easy for a user to the interface that makes it unique from another tool. This tool is fully based on Google's eye to providing an exact result that depends on off-page SEO and on-page SEO factor. It is one of the best SEO audit tools which can help in gaining more understanding of how well the website is optimizing for SEO, local SEO, and social media. https://www.woorank.com/
Google keyword planner
Here is another free SEO tool that Google keyword planner which helps in searching keyword ideas, that tells how competitive it is, and also suggest another related keyword for the website. As this tool has become less accurate over time, but this tool is still a part of the SEO toolbox. It helps in finding a group of keywords and related to it. This is one of the best SEO tools for Keyword research with competitive keywords from all over India. https://ads.google.com/intl/en_in/home/tools/keyword-planner/
Sitechecker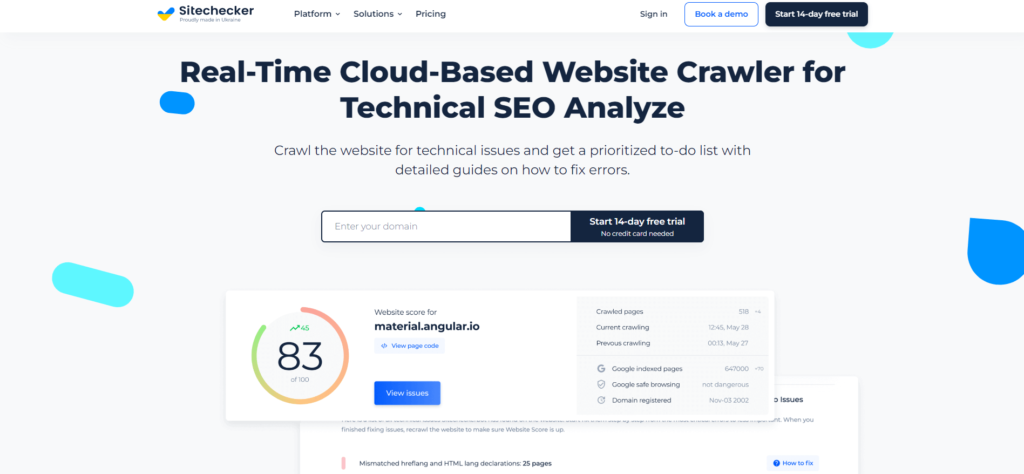 Sitechecker's Website Crawler is a powerful feature that allows users to analyze a website's technical SEO performance. This tool crawls a website's pages and identifies technical issues that may affect the website's search engine visibility.
Some of the key features of Sitechecker's Website Crawler include:
Detailed Analysis: The Website Crawler analyzes a website's pages in-depth and identifies technical issues such as broken links, duplicate content, and missing meta tags.
Customizable Settings: Users can customize Sitechecker's Website Crawler settings to meet their specific needs, such as setting the crawl depth and excluding specific pages.
Practical Recommendations: Sitechecker presents the crawl results in a clear and transparent manner, along with practical recommendations for improving the website's technical SEO.
By using Sitechecker's Website Crawler, users can quickly identify technical issues that may be affecting their website's search engine ranking and make improvements to increase their visibility. Overall, Sitechecker's Website Crawler is a valuable tool for website owners and SEO professionals alike.
https://sitechecker.pro/