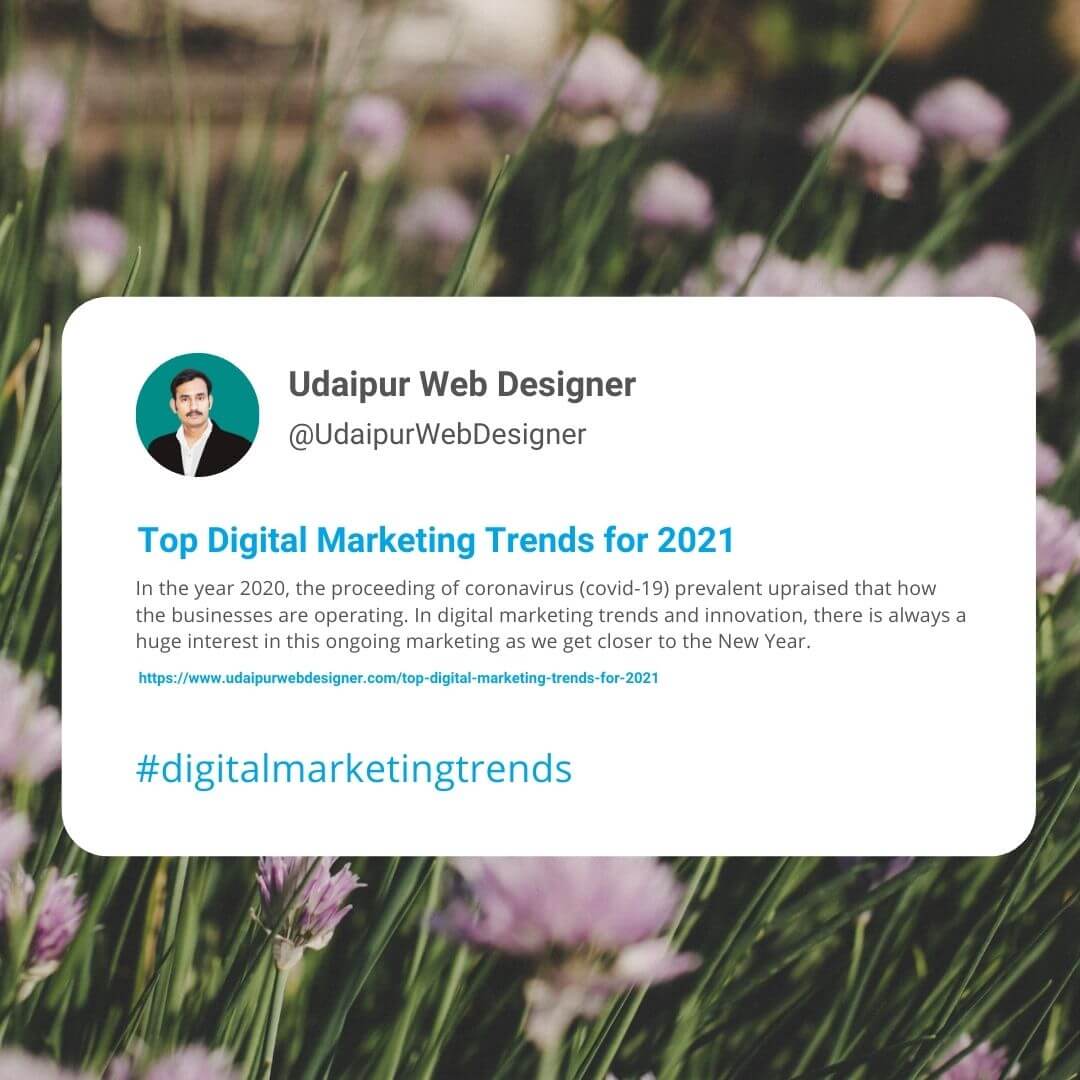 Top digital marketing trends for 2021
Top digital marketing trends for 2021 – In the year 2020, the proceeding of coronavirus (covid-19) prevalent upraised that how the businesses are operating. In digital marketing trends and innovation, there is always a huge interest in this ongoing marketing as we get closer to the New Year. The continuous changes are the best beauty and curse for digital marketing. But it is a safe and secure job that will never dull, by thinking again and adjust the marketing strategies on regular basis.
As now it is time for a marketer to explore their goals, metrics, performance, etc. In the past year, we have seen that most of the products and services have moved online and many people will be remotely working on it continuously. Digital marketing is a powerful way for products and services to be a part of chasing digital media in this coming year. Digital marketing is an easy concept to understand. Digital marketing is a demand for any business whether small or large. So, here are some leading top digital marketing trends for 2021 and they are:
Digital marketing trends
SEO (Search Engine Optimization)
It is always a target moving because the search algorithm is continuously developing. The regular variability surely will not change in 2021. It is been noticed that there are certain best trends for SEO which promises to be a lot more than just repeatable changes. There are far more important feature changes that will affect the world of SEO in the near to long term processes. Increasingly, people are treating search engine experiences as there web-based, voice-activated, or mobile as their conversational. The public uses general language, not Google keywords speak, that leave it to the search engine to explain this language.
Social Media
Organization should ready to be concern about more other services on social media marketing in 2021. There are various social media apps used for marketing business such as Facebook, Instagram, Whatsapp Tik-Tok, and many more. All the social media platforms are making it easier and simple for the customers by creating an easy and seamless path to purchase any products or brands online. As social media will be constantly growing in 2021. Almost all retail companies will adapt to these social commerce platforms with new rules. Importantly, Facebook is still a massive digital marketing tool other than a visual platform like Instagram, tik-tok, etc. Instagram has crossed one billion users worldwide in 2018; it shows that people are on the platform, and making it the most popular social media site for marketing.
PPC (Pay Per Click) Advertising
Constantly PPC that is "Pay Per Click" will be there in 2021 also will remain for years. Anything that is highly-efficient, highly-targeted, PPC campaigns will be even more important to digital marketers. Therefore, a marketer executes efficient and targeted PPC campaigns will be a little bit different. PPC is an online advertising tool in which the advertiser increases the cost when users click their ads. PPC marketing tool has proved its worth as one of the best and most-effective online marketing strategies. Pay per Click marketing allows businesses to take charge of the advertisements. Business people have several options when it comes to marketing their business. Many of them use content marketing and SEO for a little more time and are affordable even if outsourced. Deliberately organized PPC campaigns provide leads, traffics, consumers almost instantly once the ads are started running. Apart from working on PPC marketing, it is a little bit more complicated and requires careful planning.
Video Marketing
The best way to market the business is video marketing by creating informative ideas through videos, shareable information that the audience can easily understand. It's no wonder that YouTube and Vimeo are the famous video marketing tool for anything to be shared a piece of information about any business. Video marketing is more useful and convenient for the people, and Google is probably making it a priority, especially if it is a Google property. This is why everyone is watching more and more YouTube videos at the top of the SERPs (Search Engine Result Pages). If most of the videos are done correctly then it can be more effective than any text-based content, statics post, and emails. Many customers are now learning about brands and their products or services first through videos and then think about purchasing. Generally, videos make it easy and help to make a decision.
Email Marketing
The most important source of business and for business to customers. Email marketing is an important category of digital marketing. PPC Marketing and social media marketing are not enough to grow business, brands, and products and achieve a goal; email marketing is a necessary tool for business growth in this digital world. Through using the strategies of email marketing it is the first list that directs access to the audience. Being a professional digital marketer Email marketing tool is important for successful growth in the business. While it might be early to say that email marketing is a universal proof, it is safe to say that it will always be a part of the year 2021. For business marketing, it is the most popular way of communication. Most people use this marketing tool for their business more than another marketing platform.