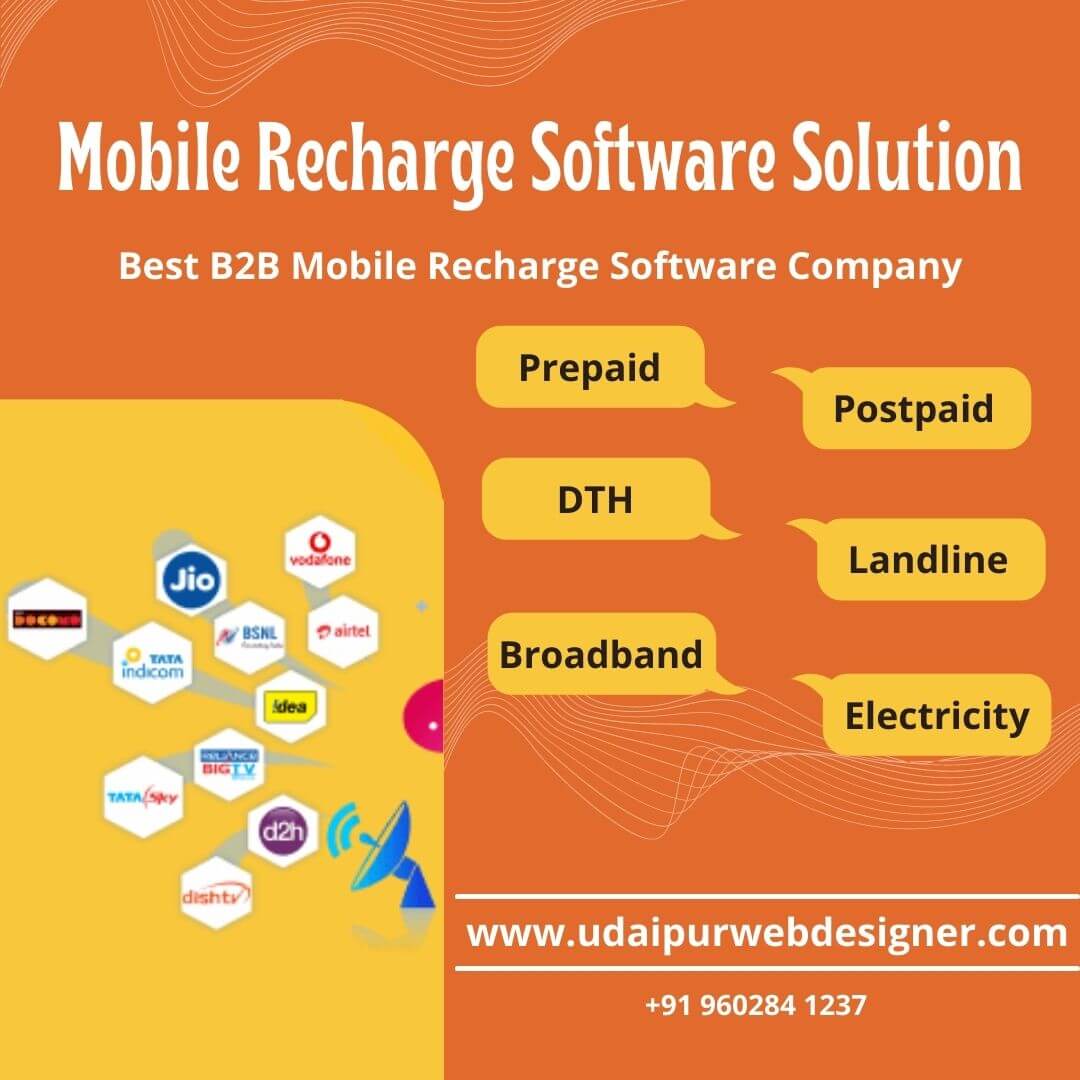 Mobile Recharge Software in Udaipur
Mobile Recharge Software in Udaipur – For the success of your business, you need an online presence. Our web design team gives that necessary online boost that makes your product and service more visible to the target audience. Our dedicated team of graphic designers, SEO expert, blogger, and website designer gives their best to cater to your needs. We have successfully rendered service to diversified industries in the past and are determined to continue our best efforts to satisfy customers.
We provide tailor-made service specific to your needs curtailing redundant expenditure. Our proficient technical team crafts user-friendly, interactive, immersive websites that adhere to the best industry metrics. The websites are designed within the advanced W3C guidelines affecting semantic and SEO search responsive websites. We also develop B2B mobile recharge application software, Mobile Recharge Software solutions for commercial and residential use. Our team of professionals thrives on meeting your requirements, so you can render the best service to customers.

Best B2B Mobile Recharge Software Company
Mobile recharge application – With our integrity, creativity, and passion, we offer holistic digital marketing services. We develop a seamless mobile recharge application, Mobile Recharge Software Solution through which your customer can recharge mobile/DTH anytime from anywhere. This software facilitates multiple APIs under a single umbrella. This mobile recharge software solution is innovative and easy to use.
This software is fully SEO responsive, attracting more organic traffic and resulting in more sales and revenue. This innovative software is compatible with website and android applications. We evaluate your business needs and craft software according to them. Our software developer considers every aspect of the recharge industry while developing the mobile recharge software portal that envisions stable, functional, flexible software.
The mobile recharge application reduces the time of recharge, keeps your data safe and user-friendly. Best b2b mobile recharge Software Company depth analyzes customer report. The analyzed customer report exhibits the dimension (geographical locations) and metrics (frequency of recharge, amount of recharge) with that you can furnish an estimated revenue model.
The customer report gives you an insight into how the software is performing. We provide not only web designing but also software development and graphic designing.
The developed B2B Mobile Recharge Software in Udaipur is API integrated. API (application programming interface) is a set of protocols and tools for creating application software. API integration connects two or more applications through their APIs that permit the transmission of data. API integration synchronizes data, enhance productivity and increases revenue.
Web designing
We offer the most comprehensive web designing service at the most affordable cost; our well-trained developers understand your business requirement and present the best possible solution. All software application and website designing is incorporated with stringent security protocols.
The websites are mobile compatible as most viewers log in from their handheld devices. In spite of many advanced technologies and frameworks, the popularity of the PHP website is unharmed. We develop a PHP website as it is a powerful and consistent solution to web designing. Out software developer scripts PHP language that runs on a web server and is not dependent on a web browser.
Due to the multiple attributes of PHP, it is still one of the most popular and best programming languages. As per the Popularity of Programming Language Index (PYPL), PHP is the fifth most liked coding language globally. Though PHP is used primarily for web designing, as it is general purposes coding, it has multiple implications.
SEO marketing
We have comprehensive SEO marketing knowledge that provides a cutting edge to your website. In the competitive business environment, an aesthetic, immersive website is not enough. It must be accessible to the targeted audience. We possess the core skill to make your website, product visible to searches in major SEO platforms.
The trends in SEO change frequently, but the basics of digital marketing do not. SEO is not about mere content; behind the scene technologies such as SMM packages and PPC services increase your website visibility to searchers. Technical optimization is crucial for SEO marketing.
Our on-page optimization keeps your website content relevant and absorbing. The content management of our company incorporates the correct keyword with your service or product. Off-page optimization through backlinks enhances your website ranking in the search engine.