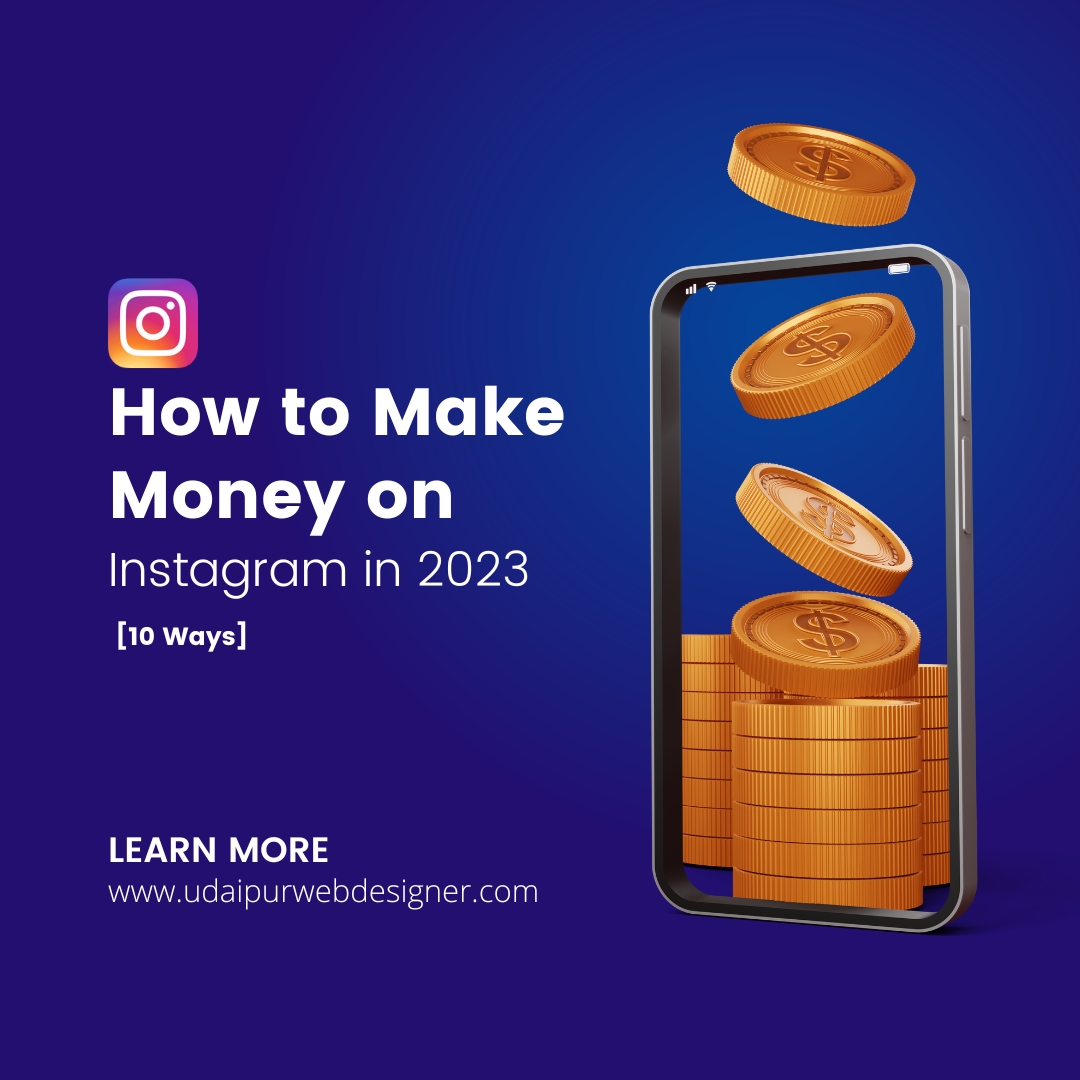 How to Make Money on Instagram in 2023 [10 Ways]
How do you make money on Instagram? How to make money with Instagram without being an influencer? Here is a step-by-step guide to make money on Instagram with few followers in 2023.
With the popularity of social networks like TikTok, YouTube or Instagram, many people are trying to earn money using their accounts on these social networks. So much so, that it has even become an economy of famous people on the Internet.
Here are some Instagram statistics to help you understand the ability to make money on Instagram in 2023:
Instagram has 2 billion monthly active users worldwide.

This social network has moved closer to e-commerce and has launched many shopping features to impact its consumers, the users of the social network.

The use of Instagram has increased tenfold in the last five years.

82% of consumers say they are very likely to follow the recommendation of an influencer they follow on Instagram.

These days, some Influencers can earn almost $1 million per post.
As you can see, it is very feasible to use Instagram to monetize and generate money. But like everything, it is not simple or from one day to the next. Before trying to make money with Instagram, you need to take into account several things.
The first thing to keep in mind
If you want to earn money on Instagram, it is important that you take these requirements into account before choosing any of the ways that we will mention later.
Number of followers

: The first thing you need is to have a large enough fan base to increase your chances of generating income. For content creators, for example, the number of views is very important. To get this number of views, you must have a good number of followers.

Quality of the followers

: In addition to having a large number of followers, it is necessary that these are of quality because it is useless to have bots or followers that do not interact. This point is also crucial if you want to earn money with Instagram through influencer-style marketing or advertising campaigns because your followers must be of quality for this to work.

Value content

: Finally, you must define a clear and relevant line of content. If you want to focus on talking about sports, your account should focus only on this topic and not mix with others, such as anime series or DIY. We must define a target audience, not a salad!
10 Ways to Earn Money on Instagram in 2023
In this article, we're going to see some ways to earn money on Instagram with a small following, but with quality.
1) Affiliate Marketing
Affiliate Marketing works by recommending certain products through an affiliate link. To be effective, you must encourage your audience to buy those recommended products in order to earn a commission for it.
 Some platforms to work affiliate marketing are:
Amazon Affiliates

allows you to generate links so that everyone who buys through said link generates a commission. You can sell anything in your account!

ShopStyle Collective, is a platform oriented to the monetization of social profiles, especially Instagram.

ClickBank is an affiliate platform without many access requirements, which allows anyone to register as a publisher.

And others like ShareASale, Skimlinks, CJ Affiliate, etc.
 And in this way of generating income with Instagram, the number of followers you have does not matter, but the quality of them, and if they see you as an expert on the topic you recommend.
2) Campaigns as an influencer or micro-influencer
Another of the most common ways to earn money with Instagram is to be an influencer or micro-influencer. Influencers, as their name indicates, seek to influence public opinion to encourage a purchase.
Nowadays, due to the great relevance that influencers are gaining, marketing campaigns with these opinion leaders are becoming more and more common. Brands generally want to work with internet celebrities who post content in specific areas like fashion, travel or healthcare, where the audience finds them trustworthy.
If you have a good quality fan base and some authority, you can look for brands and advertising agencies to do this type of collaboration.
Some of the best influencer agencies are:
ViralNation.

Socialpubli.com.

Influence4You.

HireInfluence.

Open influence.

The Amplify.
You can sign up for some of them and wait for the brands to contact you to carry out a campaign.
3) Launch your own products
If your spirit is to be an entrepreneur, you have a large number of followers and you want to earn money with Instagram, without a doubt this is a great option. In many cases, starting your own brand can be more profitable than working for someone else's.
Imagine you are a chef sharing vegan recipes and you have created a vegetable seasoning that flavors roast beef. A good way to make money with Instagram would be to start your business and sell that seasoning to your followers.
4) Create a store on Instagram Shopping
Maybe starting your own brand and launching your own products is too much for you. In that case you can create an online store with your account, but using someone else's products. It would basically be a Walmart or an Amazon, but on Instagram.
The secret is to make the most of the tools of this social network, such as Instagram Shopping. Maybe you are a sports influencer, you can use this online store to sell sportswear or link products of some brand and earn money as an affiliate.
5) Enable Live Badges
You can also take advantage of the Instagram Badge Milestones or challenges to earn money just for going live. To use these forms, you must have a Company or Creator account, and then you have two options:
Instagram Badges: where live attendees can purchase $1, $2 or $5 badges to highlight their profile during the live and collaborate with the creator and the creator can offer incentives such as mentions or some service.
Instagram challenges: where Instagram pays directly to do 15 or 30 minute live streams of different types. For example, doing a direct with another user or doing a direct every week for 4 weeks.
6) Sell Stock Images
This is undoubtedly a great option for those who are fond of photography and looking to earn money on Instagram. The sale of digital stock photography is becoming a great way to generate passive income which today, and any user can exploit.
 For example, use your Instagram account as a showcase for your photography talent or portfolio of work. Then, link your profile to your stock account and that's it, lead the user to buy your digital work. In this way, you can earn money from Instagram even while you sleep with passive income.
7) Sell filters or presets to edit photos
People love to edit their photos so that they look much more impressive or steal the occasional heart. Another way you can make money on Instagram is by creating and selling photo editing filters or presets in apps like Adobe's Lightroom.
Instagram here would play the same role as in the previous point, as a showcase, showing how the filter works or the results that it can give you. Thus, people can get to know the presets closely and convince themselves that they need them.
8) Monetize your account with Facebook
Facebook has launched different updates to encourage the use of its platforms to generate content. That is why nowadays you can make money with Instagram by monetizing your account. All you have to do is apply to the Facebook monetization process.
Keep in mind that to earn money with the monetization of Facebook and Instagram, it is necessary to meet some requirements:
The first thing is the number of followers and quality of the account, as we already told you.

You will also have to consider that your account must go through a verification process to be approved for monetization.
9) Sell your info products
This is one of the most used ways to earn extra money with Instagram. You just have to create and sell an information product created from your knowledge and experience.
You can create:
Ebooks.

Templates.

Mini Courses.

Preset packs.

Webinars, etc.
To increase sales, it's important to promote products appropriately on your Instagram account. A helpful tip is to use FlexClip video editor to create engaging video content, which is more likely to catch the attention of your audience compared to photos. 
10) Sell Instagram accounts
If you have Instagram accounts with a large number of followers, this option is very interesting to generate income because there are companies and professionals interested in acquiring them.
For example, on TooFame, accounts with 2,000-5,000 followers sell for approximately US$100, while accounts with more than 100,000 followers sell for up to US$20,000. Of course, you must pay attention to maintaining a good publication content in the account. If the account is too messy, it will affect the price.
Conclusions about making money on Instagram
As you can see, it is possible to earn money with Instagram, as there are many options. In this article, we only mention a few of them.
 Some are for profiles with a greater number of followers, and others are for accounts with fewer followers but that are of quality, and so it is possible for anyone to generate income with their Instagram account.
Also, it is always important to keep in mind that to generate income with your Instagram account, you need to earn quality followers and share valuable content on your account so that you can monetize it.