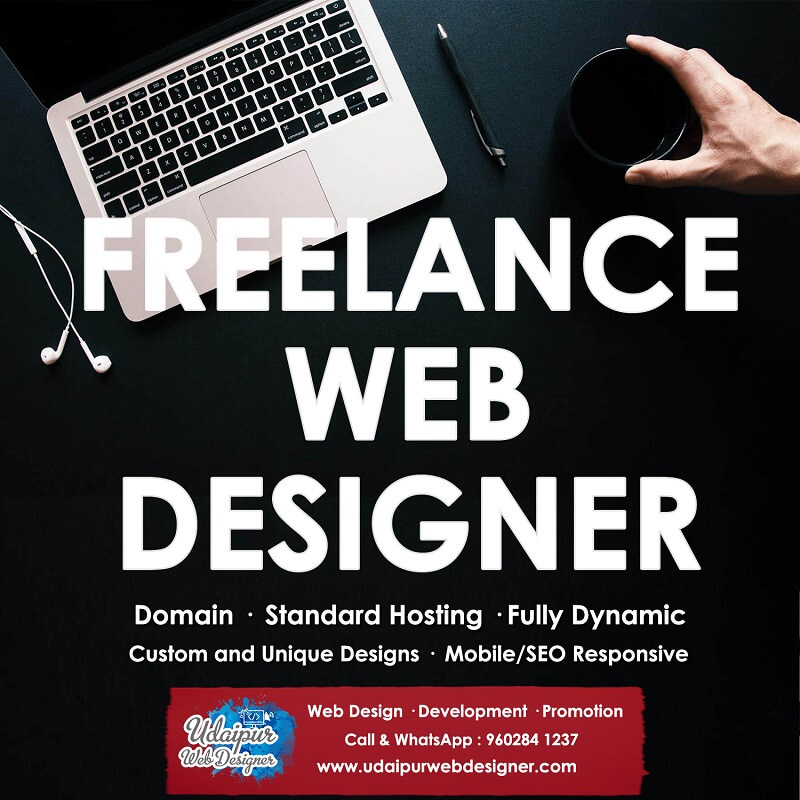 Freelance Website Designer: The need for website design and development will always be there and all businesses need to strengthen their online presence. However, it is crucial that you choose a suitable firm for getting your company's website designed. In fact, you should pick reliable web design firms for getting a personal site too. At times, you may have a tight budget and hiring typical agencies offering web design may seem hard. In such times, you should opt for a veteran and reliable freelance website designer. At Udaipur Web Designer, your search for freelance web designer India comes to an end.
Freelance Web Designer India
Why opt for our services? – We understand that clients have varying web development requirements. A freelancing web design professional can very well fulfill your site needs. You can opt for our freelance services when you have a modest budget or your startup is quite new. However, you would be mistaken to think our freelance packages are not suited for large scale web design needs. As one of the top freelance web designers, we have catered to site development needs for mid to large scale companies successfully.
Contact us at +91 9602841237 for Freelance Website Design, SEO Services, WordPress Development. or drop a mail at ervikramnathchouhan@gmail.com, Get a Quote Online Click Here
As one of the most popular freelance web developers, we offer site creation along with revamping services. Sometimes, a website needs slight modifications and alterations to the visual scheme to attract more visitors. We can fulfill such needs too.
Get the technological edge: From a top freelance website designer, you expect websites developed using the latest frameworks. We offer packages involving the latest web design tools and technologies. We can meet your needs with elan, whether you want an e-commerce website or a CMS-based website. If you want to know the benefits of using specific web development platforms and tools, we will surely explain.
Get a quote and resolve queries. You may have several queries on web design, regardless of what you choose—a typical web development firm or a freelance web developer. We are always ready to resolve client queries. If you want to know more about our freelance packages, get in touch. You will definitely find a package that fits your requirements as well as your wallet. Give Vikram Chouhan a call today at +91 9602841237 for the details.
Here I mention some Best Website links Deliver over the world, Have a look –