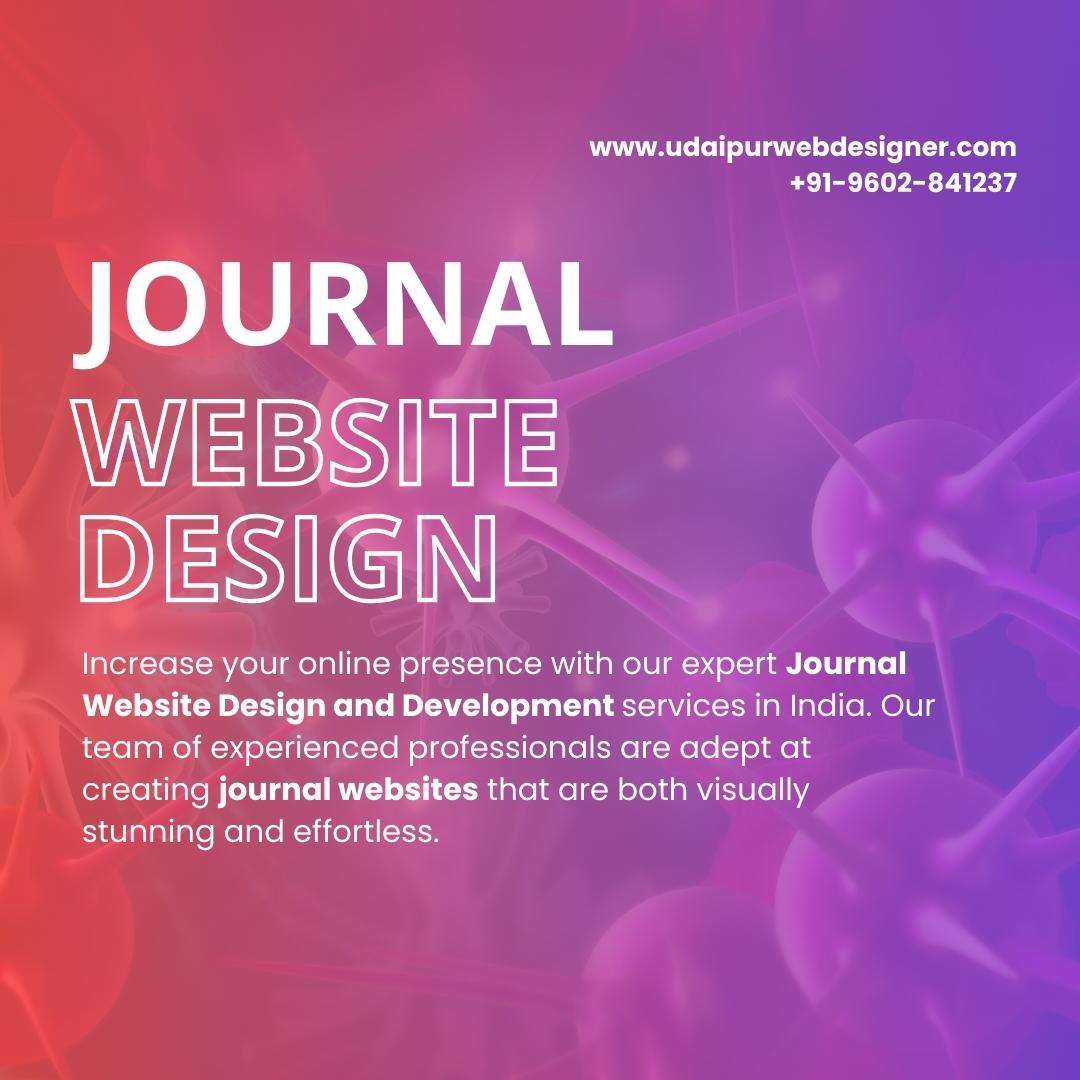 Hire the Best Journal Website Designer
Nowadays, every organization, including academic entities, needs an online presence. People related to such entities also need to publish their studies and research findings online in apt ways. That is why journal website development is important. These websites are meant for a niche section of web users, including scholars, students, academicians, etc. You must hire a suitable, skilled web designer or developer with considerable expertise in journal website design. In this regard, your best option is Udaipur web designer.
Top Journal Website Developer in India
Why Hire Udaipur Web Designer For Journal Publication Sites?
You can count on Udaipur web designers' expertise to develop scholarly websites. Such websites are aimed at serious users; surely, you would not want to hire a typical web design agency to handle such tasks.
Proper Layout and Template- If you have observed educational and scholarly websites carefully, their layout and visuals are somewhat different from typical websites. A journal article website typically does not have a rich colour scheme, too many interactive elements or snazzy graphics. Such website layouts omit distractive elements, as it is. A veteran web developer like Udaipur web designer can craft the layout and visuals for your journal website well.
Proper SEO– As it is, research journals websites need suitable SEO techniques. These websites have content linked with reference websites and quality online resources. This helps build their credibility and ranking, eventually. So, a web development agency must be an expert in such SEO tactics. Again, Udaipur web designer hits the sweet spot.
Device Optimization– Earlier, research paper publishing sites were accessed by academicians and students, scholars from PCs. However, that is not the case now. They use diverse types of web access devices to access such websites nowadays. So, these websites have to be well-optimized for tablets and smartphones. So, you need a web developer to develop a scholarly website that renders smoothly on all devices. Udaipur web designer is there to do the needful here.
Content Optimization- The websites for scientific articles and scholarly studies often contain heavy content, including videos and podcasts. These can be necessary for linking relevant interviews and speeches, etc. These contents have to be optimized well to achieve a balance between site performance and load time.
Support- Millions of people from academic backgrounds worldwide access research journal websites. So, you have to hire a web design agency to restore such sites in the event of a snag. Udaipur web designer is known for offering prompt and reliable support for all types of websites. Your website will be back in shape even after developing unexpected snags.
Get the Best Quality Journal Website Developed
Do you know the best entity to select for developing your journal website? With Udaipur Web Designer, you need not waste time assessing and comparing! Contact Mr. Vikram Chouhan to get a scholarly website developed as per your requirements within your budget. To know more about the nuances of its journal website development services and obtain a quote, call 9602841237.