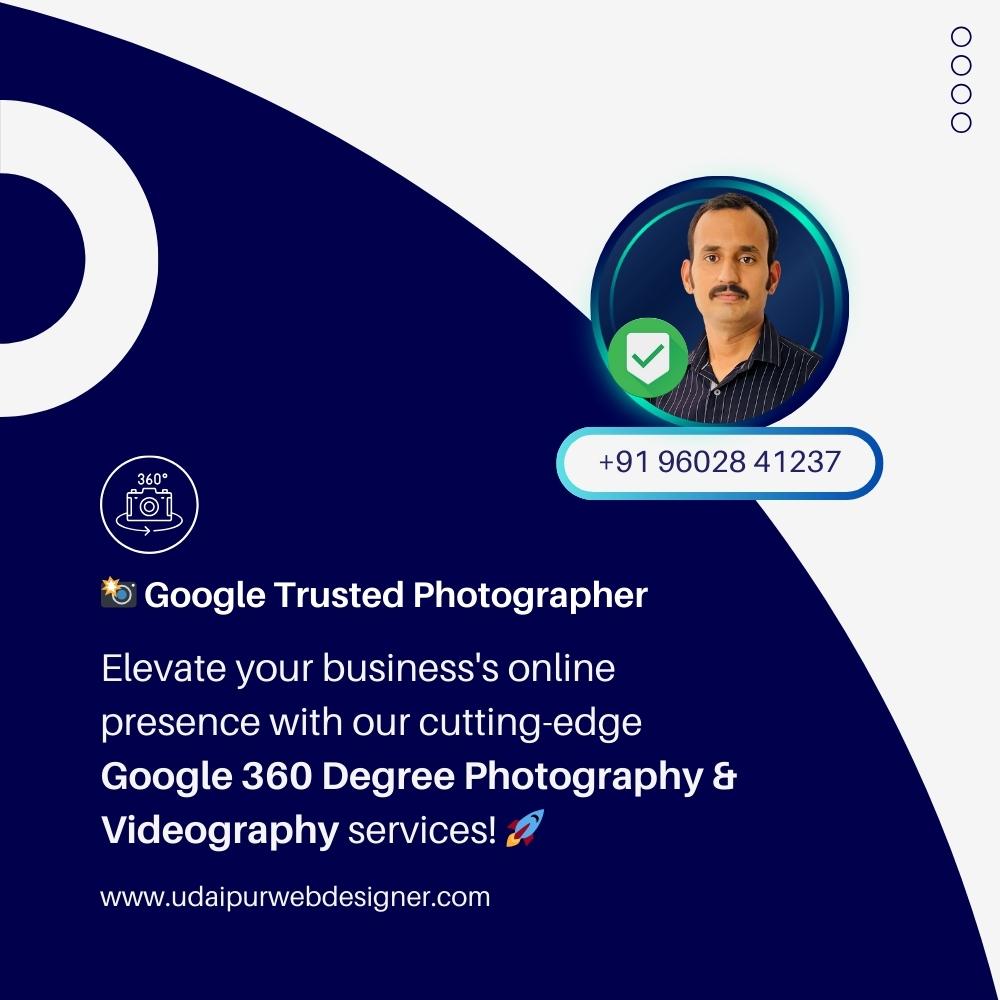 Best Google Trusted Photographer in Udaipur
We at Udaipur Web Designer one of the leading Google Trusted photographers in Udaipur with Google certification. We have uploaded more than fifty photos to the Google Street View app. Our photographs come with a minimum of 7.5 megapixels, with adequate lighting and every object and person crystal clear. We are acclaimed as the best Google trusted photographer in Udaipur, with 360 photography technology working with many clients who want to explore this rising trend. Envision is creative, imaginary and can be convincing. While goggling for a café, business or service, the reviews consist of business location on the map and photos of interior décor and exterior structure. We are a Google Street View trusted photographer who delivers images of the business in an impeccable fashion that influences the opinion of the reader.
Google trusted photographer near me
Google 360 Degree Photography & Videography Services: Elevate Your Business's Online Presence and Be Seen!
Seeing is believing, and as Google trusted photographer in Udaipur, we deliver focused, brilliantly shot 3600 photos that showcase your business. We are the one when you search Google trusted photographer near me who provides a panoramic view of your business that enhances the first-hand experience of the viewer. We take great care the images are helpful and creative and reflect the essence of the place and business. Google recommends us as street view photographers. Locating us is pretty straightforward. Go to the Google location page and search by country, state, and city. You will see a list of registered photographers in the area.
Google Street View trusted photographer
360 degree photography of business is a panoramic view that can be regulated and encompass the original point of shooting. These images allow viewers to step into the photographer`s vision and look around in any direction. Instead of a smartphone with an ARCore platform, we use the Art 3600 camera to create top-notch photographs for street views and virtual tours. We use software and multiple panoramic photos to create a continuous circle around the summit of capture. 360-degree photos are a capable instrument to showcase scenery, architectural design, interior décor and many more in a visually appealing fashion. The beholder feels being present over there.
Our dedicated team of photographers shoots dramatic, high-quality images of your business; we exhibit our expertise through those images. The business that includes street view in the map profile is 94% more probable to be presumed as an established brand.
Vikram Chouhan Google Trusted Photographer in Udaipur. Call & WhatsApp at 9602841237 for more information Google Street View trusted photography.
Portfolio – 360 degree photography
Boutique Hotel Indra Niwas Udaipur – https://maps.app.goo.gl/jyjZ6N6P2o1fySND9
Rajhans Opticals – Best Optical Shop In Udaipur – https://maps.app.goo.gl/wFPP1wfjCsThUcf8A