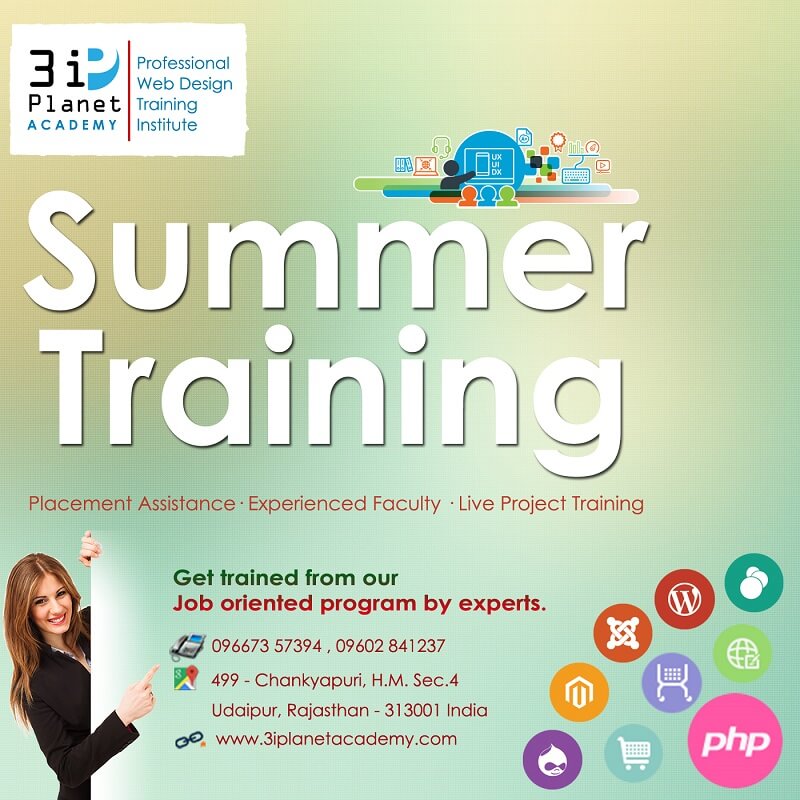 Summer Training Udaipur
Summer Training Udaipur – Summer training programs for engineering & BCA, MCA students have become a kind of mandatory. The courses of Summer Training in Udaipur programs are designed in such a manner that they meet industrial needs and standards in the best manner. Just gaining theoretical knowledge is not enough in case of engineering or management studies. It is important to have hands-on experience and training in the respective fields so that complete and overall knowledge in the subject is gained. We, Udaipur Web Designer, arrange summer training programs for management and engineering students with varying curriculum. Moreover, the costs of the courses are decided in a manner so that they are affordable by all.
Contact us at  

 +91 9602841237 for Summer Training in Udaipur.  or drop a mail at ervikramnathchouhan@gmail.com, Get a complete information Online Click Here
Key features of our summer training programs
Our summer training program helps in gaining skills and competencies which are required in the industry. The training programs are conducted by experts.
Students undertaking our summer training programs get globally recognized certification from our leading partner logos. These certifications prove to be really useful while our students are placed in various organizations after completion of the course.
We provide our students with the opportunity of working on real-time projects. The kind of project will depend on the subject that the candidate chooses. This practical hands-on experience helps in understanding the subject better.
We provide an extremely professional corporate environment for the summer training programs so that students get the real feeling of working in a corporate setup.
After undertaking summer training programs from us, our students are prepared in a much better manner for placing their feet in the professional world.