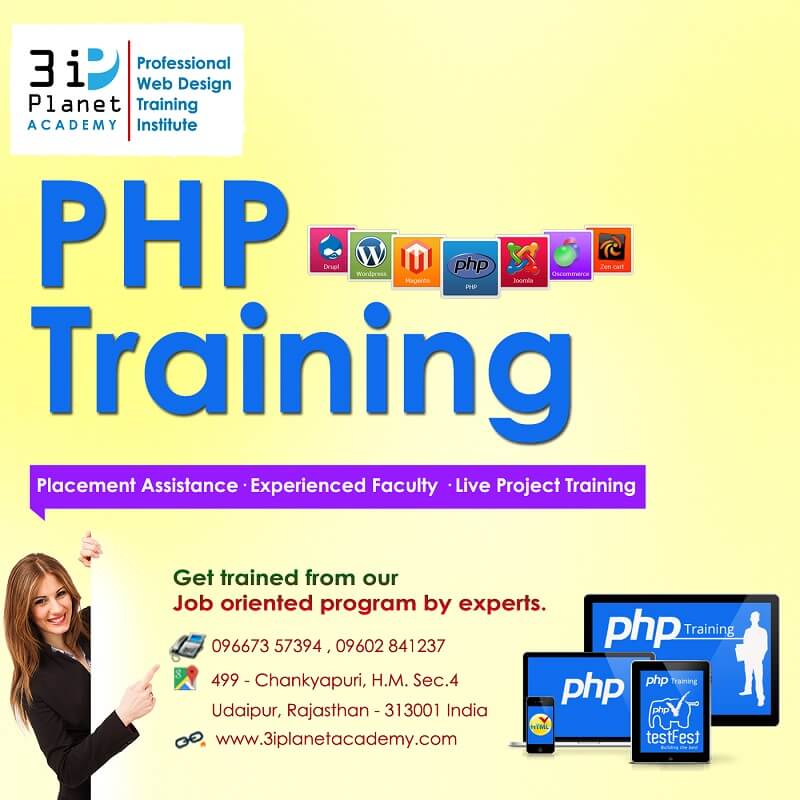 PHP Training in Udaipur
Certified PHP Training Institute in Udaipur – Udaipur Web Designer provide PHP Training in Udaipur, PHP, Core, Advance PHP, PHP Framework laravel, codeigniter Framework training on live project. Web design is constantly evolving and only a few technologies or platforms can retain their appeal in the developer community. PHP is one such example. This Open Source, Server-side scripting language has been used worldwide to make feature-rich and dynamic websites. We offer top-notch courses in PHP development for aspiring candidates.
LIVE PROJECT PHP TRAINING IN UDAIPUR
If you think it is popular because of its Open Source nature that is not true. PHP comes with a number of benefits for web developers. To understand multiple benefits of PHP for web development, enroll in our course.
Contact us at 

 +91 9602841237 for PHP Training in Udaipur.  or drop a mail at ervikramnathchouhan@gmail.com, Get a complete information Online Click Here
We have a team of experts with years of expertise and skill in PHP coding and development who will guide you throughout the course. We have designed the course keeping in mind the diversity of students and their situations. Our courses will be suited for those who are totally new to web design. We at Udaipur Web Designer also cater to those aspirants who have basic knowledge of coding and web programming languages. Our course is also updated so that you can learn the newest version of PHP after enrolling.
After completing the course in PHP offered by us, your career prospects will receive a boost for sure. The demand for PHP developers is high and you will not face difficulty in finding suitable openings. You need not worry about spending a lot to learn nuances of PHP either! Our PHP course fee is quite reasonable and you can check it out. If you have any more query on our course PHP Training in Udaipur, PHP, Core, Advance PHP, PHP Framework laravel, codeigniter Framework training on live project. Call & whatsapp at 9602841237 for more information about PHP training in udaipur. 
What Courses you offer ?
3i Planet Academy, Udaipur is Udaipur's 1st live project based training institute offer PHP, PHP Laravel, PHP Codeigniter, PHP Framework training, apart from this Institute also offer Digital Marketing Training, WordPress Training on Live Project basis. Contact 9602841237 for more information.
Duration of php course ?
Duration of advance level Php courses is around 45 to 60 days.
What is fees structure of php courses.
Every course have different fees and duration, kindly contact 9602841237 for detailed information.